Bramcote College New Build Update: A big step forward
First published on 28th June 2019 in issue 215 of the Trust Newsletter. Newsletters are sent to subscribers and all parents/carers of students at The White Hills Park Trust, for whom we hold a valid email address. They also published on the Alderman White School, Bramcote College and Bramcote College Sixth Form websites for a minimum period of 6 months from the date of issue. Archive copies of the Newsletter are available on request.
This week saw another big step forward in the new Bramcote College build project. On Tuesday, we had the first of the consultation events that will take place as we develop the design. We were delighted to see a large group of parents, carers and members of our local community who came to see the early plans and give us their views. They were able to talk to Stella Rousseau, principal architect who was there with other colleagues from ARC Partnership, as well as representatives from Wates, the main contractor, and Nottinghamshire County Council, who are providing the up-front funding for the project.
We have now settled on the basic layout and configuration of the building, established a timeline and begun to design some of the internal spaces. Over the next few weeks, the way that the building is laid out will become more detailed, including the precise location of classrooms, offices and social spaces within the school. As the design is taking place, we have been able to establish some key principles: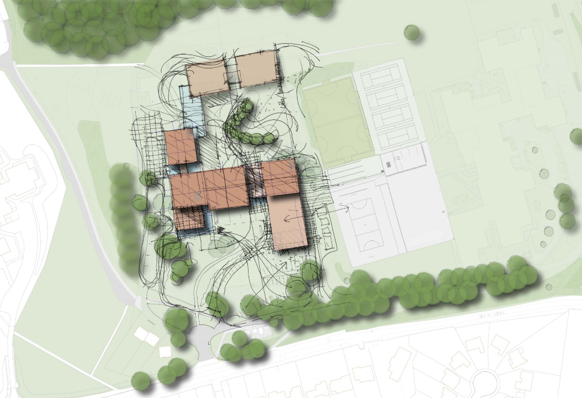 A building fit for a 21st century curriculum: Our new school will have conventional classrooms and specialist rooms (for Science, Tech, Arts etc) but will also have flexible spaces that can be used for a range of purposes, such as some smaller seminar rooms, rooms that can be combined to form larger 'master class' areas, an outdoor classroom space, and library and breakout areas on every floor. We will have a full IT infrastructure that will allow us to incorporate technology safely and effectively into the daily work of the school.
Integrated 6th Form: Our sixth formers will have their own dedicated social and study areas in the new build, (likely to be on the top floor) but will also feel part of the school, with many lessons in tailored spaces within departments. We see them as key leaders in the new school, and want the transition from KS4 to KS5 to be a seamless learning journey for pupils from Bramcote College and Alderman White.
A positive contribution to the environment: The new school is located in a stunning parkland environment and we want it to complement and enhance that environment. We will make sure we comply with best practice in energy efficiency and sustainability.
At the centre of the local community: It is a fundamental part of our vision that the school is a resource for the local community, and that it is in use outside school hours for sports, arts, adult and community learning, as well as continuing as a centre for local partners such as Emmanuel Church. We are laying out the building for ease of access and designing sports and theatre facilities of high quality that can be used out of hours.
Suitable for all: Accessibility is a key consideration for the new school. We know that our current school layout is difficult to access for those with a disability, so we will not repeat this in the new build. We will also make sure that our SEND / student support hub is at the centre of the school, to support our strong commitment to inclusion.
A great place to work for staff and students: We will make sure that the users of the building are well looked after, with suitable social spaces and a welcoming environment, as well as a school that works well. We know how important it is to look after the wellbeing of staff and students, and we hope that our building will support this.
As we go through the coming months, we will keep you informed as much as possible, and post updates on our website – look out for more news coming soon!
Paul Heery
Executive Principal